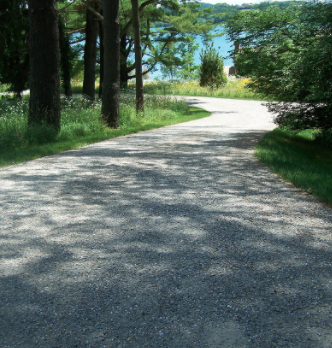 Have you ever heard of an oil & stone driveway? It may not be the first thing that comes to mind when you think driveway because the more common choices are materials such as concrete, gravel, pavers or asphalt. But just because you may not have heard of an oil & stone driveway before doesn't mean you shouldn't consider it. You've almost certainly driven over miles of oil & stone driveway roadways and parking lots. It's a good driveway choice for those wanting to keep costs down.
An oil & stone driveway is a low-cost alternative to asphalt, offering a more solid surface than plain gravel. It also has a rough texture, which makes for much better footing when wet or snow-covered, compared to poured concrete, which can be slippery. The expression "oil & stone" is a shorthand term that refers to a paving surface made from liquid asphalt and stone.
How to Maintain an oil & stone driveway Driveway
There really is no regular maintenance required of an oil & stone driveway. Unlike asphalt, it doesn't have to be sealed regularly. That's the good news. On the other hand, snow removal can create problems. If you use a snowplow to clear the driveway, it can damage the surface. For best results, make sure that the plow rides just above the driveway surface, then remove this leftover snow with a shovel or just wait for it to melt away. You'll not be faced with this problem if you clear snow with a shovel or snowblower.
How Long Will an oil & stone driveway Driveway Last?
Oil & stone driveway driveways are not built for the long haul. Expect the surface to remain sound from 7 to 10 years. At that point, you may want to add another layer of tar and stones.
What Does an oil & stone driveway Cost?
Since it is primarily composed of asphalt and gravel, it is useful to compare the cost of a tar-and-chip surface to those other two options. A oil & stone driveway will typically cost about twice as much as a gravel driveway and a little less than an asphalt driveway. Expect to pay in the range of $2 to $5 per square foot. As is the case with asphalt driveways, the costs of oil are a big factor in the installation expense. Expect the cost of these driveways to climb a bit when the commodity price of oil climbs.
Looking to Have an Oil & Stone Driveway Installed?
National Asphalt Paving has been the most trusted Suffolk County driveway installation company for many years. We specialize in installing pavers as well as all phases of asphalt paving, including concrete work from patios and driveways to private roads and walkways. If you would like more information concerning our products, give us a call at  (631) 208-1570 or visit the website.
Suffolk County Driveway Paving Home Page